Yo La Tengo


Fade
Matador Records [2013]




Fire Note Says: There won't be many records this year that are better than the new Yo La Tengo!
Album Review: There aren't many bands out there that have been putting out records as consistently good as Yo La Tengo has, for as long as Yo La Tengo has. I go back a long way with the band, having been introduced to Electr-O-Pura (1995) by a good friend, and have been following them ever since. With the release of Fade, it has now been 20 years since their breakthrough record Painful was released, and the band has lost none of their creative spark. They are just as good (if not better) today than they were in 1993.
There has always been two sides to the band, the noisy experimental guitar band, and the sweet pop band, always existing side by side, and always able to slide back and forth easily between the two. If you have ever caught the band live, then you have witnessed this first hand as they will often transition from 20 minute guitar skronk workouts, to sickly sweet piano pop, all without missing a beat. As with all of their releases from the past two decades, these two sides still exist and continue to complement each other well. Album opener "Ohm" is a percussion driven track with a hypnotic buzzing guitar, and sweet as molasses vocals pouring over top of it. It's nearly 7 minutes long, but the trio could easily ride this groove for another 10 minutes on top of that if they really wanted to. "Well You Better" is a funky keyboard and bass driven track that shows off yet another facet of the group, closet dance band! It should also be noted that although Georgia Hubley has always been an excellent drummer, she sounds better on this record than she ever has. I think credit for this has to go directly to producer John McEntire who has always been able to get an excellent drum sound out of the bands he has been involved with and recorded, most notably Tortoise and Sea and Cake. Perhaps it's because he is a drummer himself, but whatever the reason, my hat is off to him for the fine job he did here. "Before We Run" is a perfect album closer, it fully encapsulates the entire feeling of the record, adding in some very lush string and horn arrangements, and wraps it all up in a 6 minute bow.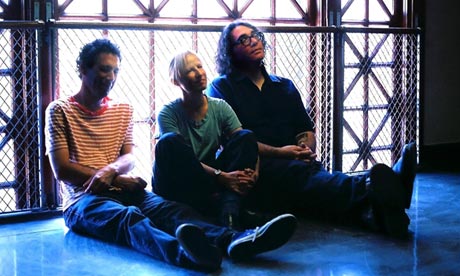 Fade is probably the strongest record that Yo La Tengo has made since 2000's And Then Nothing Turned Itself Inside-Out. They still sound like a cross between Sonic Youth, The Beach Boys and The Velvet Underground, but they have added more depth to the production on this record which allows their songs to shine even more than they normally do. You won't hear many better records this year.
Key Tracks: "Before We Run", "I'll Be Around", "Ohm"
Artists With Similar Fire: Sonic Youth / Velvet Underground / Television
Yo La Tengo Website
Yo La Tengo Facebook
Matador Records
-Reviewed by Kevin Poindexter
Latest posts by Kevin Poindexter
(see all)