Fort Shame


Double Wide
Peloton Records [2012]



Fire Note Says: Fort Shame bring back some mid-90's vigor on their debut Double Wide!
Album Review: If this was 1998, Fort Shame would be receiving a significant increase in press as the band is fronted by Columbus, Ohio's Sue Harshe which was co-founder of the post-punk band Scrawl and Todd May which played in the Americana band the Lilybandits. In the 2000's both artists were doing their own thing as Harshe was scoring silent films and May was playing and recording with Lydia Loveless as well as touring nationally as a solo artist. After coming together in 2007 on another project the duo were not done and Fort Shame was born. Now the group is fully realized with the rhythm section of George Hondroulis (Drums) and Jamey Ball (Bass).
Double Wide is their debut record and the album is every bit of solid indie rock with a twang twist that you would expect from their talented resumes. Harshe still has that slightly rough, slightly polished voice that just pulls you into her every word while May has an Americana troubadour sound that is instantly appealing. Combined they complement each other as album opener "Someone Turned Her Inside Out" has a bit of Sonic Youth meets Harshe's Scrawl for one of the biggest rockers on the album. The next song, "One For The Ages," features May on lead as the song has a touch of the Americana backbone. His voice is somewhere between the slight gruff of a Patterson Hood (Drive-By Truckers) and the smooth delivery of Ryan Adams.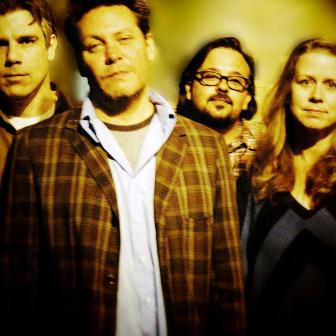 If you are familiar with Harshe and May's previous work then Fort Shame is a no-brainer to pick up. The record brings some of their best elements forward as a song like "Gay Boys In Berlin" is a distorted grinder that shows another side of the group while their cover of the Ass Ponys's "Dead Fly The Birds" is an album highlight. Overall, Fort Shame bring multiple styles to the table on Double Wide that result in a quality debut which continues to entertain upon repeat listens and is also a big welcome back for Harshe and May to the indie scene.
Key Tracks: "Someone Turned Her Inside Out", "Dead Fly The Birds", "Gay Boys In Berlin"
Artists With Similar Fire: Sonic Youth / Wussy / Heartless Bastards
Fort Shame Website
Fort Shame Facebook
Peloton Records
-Reviewed by Christopher Anthony
Latest posts by Christopher Anthony
(see all)