Aspiga


Every Last Piece
Paper + Plastick Records [2012]



Fire Note Says: Fast, loud, and melodic fist pumping punk from NJ trio, Aspiga!
Album Review: I'm a total sucker for a band that plays fast, loud, melodic punk songs that make you want to pump your fist in the air and sing along with their big choruses. Aspiga is exactly that kind of band. The New Jersey trio, vocalist / guitarist Kevin Day, bassist Alec McVey and drummer Ray Slowij, have been playing together as a band since 2006, and their new album, Every Last Piece, out late last year on Paper + Plastik, and their 3rd overall, is a classic slice of no frills punk that will push all the right pleasure buttons in your brain.
Here's what Every Last Piece is, 7 catchy songs that leave you wanting more. Don't get me wrong, these are not quick get in and get out songs, 2 approach the 4 minute mark, and another pushes past the 5 minute barrier. These are well crafted fully fleshed out songs. All of the fat has been trimmed from the meat here, there isn't much in the way of filler, and the meat that is left is Grade A cut. Opening track "Save Your Spit" is a quick burst of energy that reminds me of when The Gaslight Anthem didn't suck. It's the shortest song on the record, but it's also the biggest and most anthemic. Aspiga definitely hook you right from the start. The track flows right into "Welcome to the Sympathy Party" seamlessly, at this point, it starts becoming apparent to the listener, that not only do these guys write great songs, they also are quite adept at sequencing a record, which is a whole other skill in and of itself.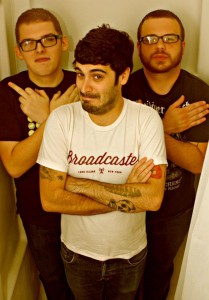 Aspiga do a fine job of mixing tempos and creating a flow, and with only 7 tracks to work with, it could have been a challenge to create a worthwhile listening experience that follows a nice arc and gives a feeling of flow. It feels like an album, and not an ep, which would be typical for a release of this length. "Parade on Me" is a critical track on the album, at song 4, it slows the tempo down somewhat, but has the big rousing "whoa oh oh" chorus that makes it feel huge!
Every Last Piece is a really good record and well worth checking out. Go see them live if you find them in your neck of the woods, I get the feeling it would be well worth it!
Key Tracks: "Save Your Spit", "Parade of Me", "The Excavation"
Artists With Similar Fire: The Gaslight Anthem / Japandroids / Jawbreaker
Aspiga Website
Aspiga Facebook
Paper + Plastick Records
-Reviewed by Kevin Poindexter
Latest posts by Kevin Poindexter
(see all)