Wax Tailor


Dusty Rainbow From The Dark
Le Plan Music [2012]



Fire Note Says: Wax Tailor blends the kindergarten, the cabaret, and the club.
Album Review: The French musician Wax Tailor gives us a concept album. And damn it if it doesn't work—and work pretty damn well.
The first substantial track ("Dusty Rainbow") sets us up for what's to come (it follows the explanatory opener, "Exordium"). We're in a child's world, something very Maurice Sendak: all discovery, disillusionment, and eventual uplift through sober-eyed experience. "Dusty Rainbow" reveals how this is all going to work: slinky beats and turntablism, female vocalists, and a devoted attempt to use every instrument in the closet.
A couple tracks later, spoken snippets are added to the mix: samples from all over the map. When the spoken snippets appear in a track, they're very present. Thankfully, those tracks are spread out over the course of the album. And while the samples almost threaten to derail the focus of the project, they show up only just enough to keep it interesting. The rap vocals, which show up periodically in the latter half of the album, don't hold up nearly as well: they seem like nothing more than an effort to broaden the tapestry of this already multiform work. But they stretch the scope too far and too misguidedly, and they're my only true complaint about the album.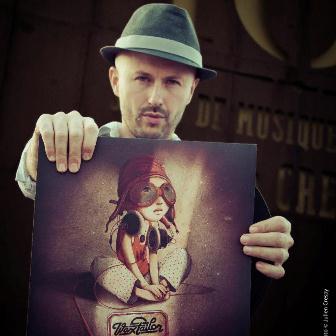 While the guest rappers don't quite fit here (although "Magic Number" would be a great track on another album), the numerous female vocalists all match the tone of the story quite well. This approach gives the album a bit of the feel of 2010's Here Lies Love, the collaborative album from David Byrne and Fatboy Slim, with a bevy of excellent female singers as the storytellers. But the album itself feels closer in spirit to Peter Gabriel's OVO or Prince's The Rainbow Children, two concept albums that succeeded in their efforts. While this reviewer finds The Rainbow Children the greater achievement (and I'll defend this opinion fiercely) Wax Tailor's album feels more like OVO. This isn't a slight—it's a acknowledgment that each OVO and Dusty Rainbow From the Dark try to cover a wide spectrum of feel and musicianship. All three albums mentioned above occasionally strain the connective tissue between concept and individual songs—but the successes outweigh the failures. And Wax Tailor is to be commended for reaching beyond the usual.
Key Tracks: "Dusty Rainbow", "Only Once", "From The Dark"
Artists With Similar Fire: Free the Robots / Birdy Nam Nam / …and yeah, Moby
Wax Tailor Website
Wax Tailor Facebook
Le Plan Music
-Reviewed by Alan Black (www.alanblack13.com)