Emerson Lake & Palmer


Live In California 1974
Shout! Factory Records [2012]



Fire Note Says: Prog legends at the absolute top of their game!
Album Review: In 1974, Emerson, Lake & Palmer were at the top of their game, they had just released their most successful album, Brain Salad Surgery, and were on their way to becoming the second biggest live act on the planet, rivaled only by the mighty Led Zeppelin. With the release of Live in California 1974, we get a look at what ELP were like at their zenith, performing on their biggest stage, in front of several hundred thousand fans at the California Jam at Ontario Speedway in Ontario, Ca. A crowd of that size might intimidate a lesser band, but ELP played, by their own admission, perhaps the best show they ever had that night. Now, Shout! Factory has finally released this show officially so that those of us a little too young to have experienced this classic prog band in their heyday, can get a sense for what they were like.
The set draws heavily on Brain Salad Surgery, but also pulls classic tracks from their first three records as well. For anyone who has never heard much ELP, there were many different facets to the band. There was the pretty acoustic ballad side, favored heavily by Greg Lake, and then there was the wild classically infused prog side, where keyboard virtuoso Keith Emerson really took center stage. Drummer extraordinaire Carl Palmer brought the whole thing together with his impressive drumming chops. On this particular night at the California Jam, all facets of the band were on full display. The set really gets started with a few acoustic numbers, the acoustic FM radio hit "Lucky Man", from their first record, and the equally wonderful "Still…You Turn Me On". From there we get into the wild stuff, Emerson's piano takes the spotlight as he leads the band thru his "Piano Improvisations" and "Take a Pebble". I personally have a difficult time seeing how a crowd that large ate up his nearly 10 minute piano improv's but judging from the crowd noise, they definitely did! From here ELP flows directly into perhaps their signature piece, the nearly 20 minute piece "Karn Evil 9" there are more movements and sections here than I can even begin to describe, so I will just say this, it never drags, and it is pretty thrilling to hear, especially turned up really LOUD.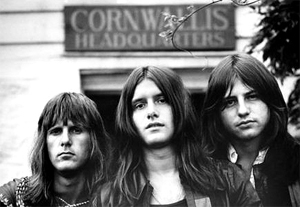 If you haven't heard much in the way of 70's prog rock, this would be a pretty good place to start. ELP were one of the quintessential bands of the genre, and help to really popularize this style. They sort of dropped off the map creatively after this point, but at this show, they were the kings of prog, and it really shows!
Key Tracks: "Lucky Man", "Take A Pebble", "Karn Evil 9"
Artists With Similar Fire: Genesis / Yes / King Crimson
Emerson Lake & Palmer Website
Emerson Lake & Palmer Facebook
Shout! Factory Records
-Reviewed by Kevin Poindexter
Latest posts by Kevin Poindexter
(see all)