Artist:

Cub Scouts


Hometown:

Brisbane, Queensland (Australia)


Artists With Similar Fire:

Architecture in Helsinki / The Shins / Los Campesinos!


Cub Scouts are an energetic Brisbane based 5-piece that have been crafting their own style of indie pop music over the last year. Their debut single "Evie" landed high rotation on triple j and scored Cub Scouts a spot on the St Jerome's Laneway Festival lineup thanks to triple j unearthed.
"Told You So" is the title track of Cub Scouts' debut EP, recorded and produced by John Castle (The Boat People, Dan Parsons, Washington, The Cat Empire). The track has taken off as their debut EP Told You So is this week's #3 most added to US college radio, beating new releases from the likes of Nick Cave, Kate Nash and Metz.
In just its first week at radio, the EP has been added to over 63 stations across the country including stations like Seattle's KEXP and Boston's WZBC and has also debuted at #8 on the FMBQ Specialty Radio rock album charts with spins on stations like LA's legendary KROQ. Beyond the two singles on the release the remaining tracks on the EP follow the same catchy indie formula that is sure to keep the buzz going for their full length in 2013. Check out the video below for the title track:

The Told You So EP is available now on iTunes.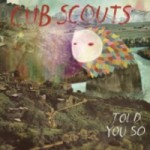 TRACK LIST
1) Evie
2) Told You So
3) Do You Hear
4) Hands
5) Scream
6) Light Me Up
Cub Scouts Website
Cub Scouts Facebook
Latest posts by Christopher Anthony
(see all)