Jason Isbell And The 400 Unit


Live In Alabama
Lightning Rod Records (2012)


Fire Note Says: This hot live set from Jason Isbell and the 400 Unit hits on Isbell's solo career as well as his DBT classics!
Album Review: It's hard to believe that Jason Isbell has been a solo act for almost as long as he was a member of The Drive-By Truckers. As a member of DBT, he injected them with a huge shot in the arm both as a guitar player and as a songwriter. His songs while in the band, while not huge in number, were always highlights of the records he played on, particularly The Dirty South and Decoration Day. As a solo artist he hit a home run on his first at bat with Sirens of The Ditch, and then made two solid follow records with his new backing band, The 400 Unit. Appropriately, Isbell's new live record, Live in Alabama, draws equally from his solo career and his days as a member of DBT, as well as a few choice cover songs that show off his impressive vocal and guitar chops.
As a songwriter, Isbell has always reached told tales that draw from the Deep South, whether it be about a singular person, or about the community as a whole. I perfect example of this dichotomy is with the two songs on the record that deal directly with soldiers. The first, "Tour of Duty", is about a soldier who has returned from the service and is now ready to re-enter civilian life and start a family. The second, "Dress Blues", tells of a southern community that rallies around the untimely death of a young soldier. "Dress Blues" is one of the finest tunes that Isbell has recorded, and here, it is even better. It's both melancholic and uplifting at the same time. It's a must hear.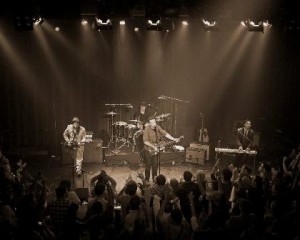 His Drive-By Truckers songs fare even better. Free from the 3 guitar onslaught that DBT brings, Isbell's guitar phrasing brings something different to these songs. Particularly excellent is the version of "Goddamn Lonely Love", the longtime favorite from The Dirty South. Most people of our generation don't realize that Decoration Day is what Memorial Day was originally called, and here, the song Decoration Day is another fitting tribute to veterans who died defending our country. His slide guitar work is especially impressive on this track.
Live in Alabama closes with a blistering cover version of the Neil Young classic, "Like a Hurricane". While Isbell may strain a bit to hit some of the vocals, he and band nail the Crazy Horse vibe of the music. It's as if Neil brought "Old Black" with him and sat in with the band. The only fault I can find with the album is that my all-time favorite Isbell track, "The Day John Henry Died", isn't on the record! This is a solid live record from a really tight band that brings these songs roaring to life. Live in Alabama is definitely worth checking out, especially if you are a Drive-By Truckers fan who has lost track of Jason's solo career.
Key Tracks: "Dress Blues", "Goddamn Lonely Love", "Danko/Manuel"
Artists With Similar Fire: Drive-By Truckers / Cento-Matic / The Dexateens
Jason Isbell Website
Jason Isbell Facebook
Lightning Rod Records
-Reviewed by Kevin Poindexter
Latest posts by Kevin Poindexter
(see all)