Trapper Schoepp & The Shades


Run, Engine, Run
SideOneDummy Records [2012]



Fire Note Says: Get ready to run with Trapper Schoepp & The Shades as their third lp is a non-stop Americana romp!
Album Review: Southern flavored music from a Milwaukee band on a typically punk label? That does not necessarily sound like a recipe for success but I will tell you that Trapper Schoepp & The Shades third album Run, Engine, Run is an excellent listen all the way through and they nail all the components that create a solid slice of Americana rock.
From the opening track "So Long" you automatically know that Run, Engine, Run is going to connect as Schoepp longingly sings "So long to the evening / Today passed me by / So long, so long, so long" with a heartfelt delivery that is very similar to the style of Ryan Adams best work. The tempo of course picks up next on the catchy knee slapper "Cold Deck" that features some well played pedal steel guitar which for me is always a welcomed addition. At only 22, Schoepp sings beyond his years with a confident swag to his voice that instantly pulls you into this record. The big sing-along song "Tracks" is another highlight on the album and features plenty of memorable moments as it possess a mid-point guitar solo and a stellar violin spotlight, from the talented Gina Romantini, while the songs conclusion features the band harmonizing the last line "Let the dust rise up and cover our tracks" with no instruments in sight.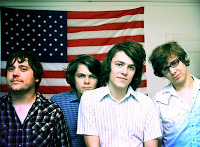 There are many bands that have come before Trapper Schoepp & The Shades with this style of roots rock but I always like it when a band nails the sound you expect. They play it fairly straightforward but play it so well that you don't care if you can't find any new music adventures here on Run, Engine, Run because the songs are well written, the musicianship is excellent, the hooks are memorable and it is an album that you just put on and drive – and then slowly reach down and hit repeat. I can't believe that Schoepp and the boys have not had more success but I highly recommend giving them a shot because I just can't put this record down!
Key Tracks: "So Long", "Tracks", "Ally"
Artists With Similar Fire: Wilco / Ryan Adams & The Cardinals / Old 97's
Trapper Schoepp & The Shades Website
Trapper Schoepp & The Shades Facebook
SideOneDummy Records
-Reviewed by Christopher Anthony
Latest posts by Christopher Anthony
(see all)