Daphni


Jiaolong
Merge Records [2012]




Fire Note Says: Dan Snaith takes on the alias Daphni and delivers a great and necessary album.
Album Review: First, know that this album is impeccable. From start to finish, Dan Snaith—the lone ranger behind both Daphni and Caribou—delivers beat-heavy perfection. Often the tracks defy sense, seeming both skeletal and fat, crystalline and grimy. The first track ("Yes, I Know"): ebullient and dark. The second ("Cos-Ber-Zam"): Latin and Blade Runner-esque. The third ("Ye Ye"): hardly there and insistent. Snaith moves through each track with ultimate assuredness. Nothing here is unnecessary and there are no missteps. It's uncanny how goddamn spotless this album is.
That's in no way to call it sterile: it's anything but. It's sweaty, it's pulsing, it's moist. But somehow he's done all of this while remaining simultaneously cool-eyed. If this isn't one of the best albums of the year—which it likely is—it's at least a remarkable example of holding two conflicting ideas in mind with perfect equilibrium. Jiaolong puts those wanking Europe-meets-Third-World beats-lounge collections to shame.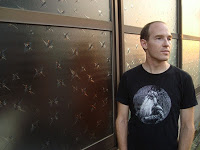 "Pairs" gives us something like synth Zydeco. "Ahora" gives us something like a desert march clothed in fine silks. "Jiao" gives us something like an ancient royal Chinese court trapped in Nintendoland. Dan Snaith is a madman; Dan Snaith is a genius. And Dan Snaith may have found his ideal creative outlet.
Sooner or later, buy this album. Part of your soul probably depends upon it. Do yourself a favor and listen to it VERY LOUD—or at least turned up on the headphones. It's immersive only if you immerse yourself. And just so's you know, it's pronounced JOW-long.
Key Tracks: "Yes, I Know", "Ye Ye", "Ahora"
Artists With Similar Fire: Sonny J / BossaCucaNova / Fatboy Slim
Daphni Website
Merge Records
-Reviewed by Alan Black (www.alanblack13.com)