METZ


METZ
Sub Pop Records [2012]


Fire Note Says: Grab a helmet because METZ are on the sonic attack with their excellent (and thundering) self-titled debut.
Album Review: Right from the opening pounding drums on first track "Headache" you just know that the Canadian outfit METZ is totally going to kick your ass! The noise rock band's self-titled debut is some of the best 30 minutes of controlled chaos I have heard in awhile as their post-punk style is both ferocious and addicting.
The howl of lead singer Alex Edkins never once pulls back and leads the charge here without truly ever shouting which is what makes METZ stand out from some other groups in the genre as his vocal still has a melodic quality to it that maintains composure in the background even though his projections are traveling a mile a minute. His vocal control swirls in and out of the spotlight during the entire duration of the record which allows him the opportunity to keep sneaking up on his listeners. This anticipation is one component of the album which keeps you coming back, as is Edkins' angular guitar wielding that is just as intense. Of course METZ does not shine on voice alone as this three piece is absolutely tight with the pulsing bass of Chris Sloarach coming through your speakers and the strong muffled drumming of Hayden Menzie that supports each track. It is an understatement and hard to relay in words just how much METZ's pieces all work together to create flowing and moving tracks which give this debut a consolidated glowing effect.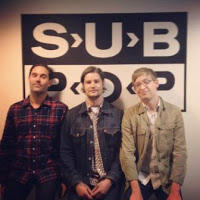 METZ won't be for every listener as there is no disguising or hiding that they are in fact a post-punk band to the core. This is not an album that you will be humming along to in the car, playing on date night or using to impress your jam band friends. Instead METZ have provided you a record that will shake every aggressive bone out of your body, get you in the mood for going out and is perfect for testing out your maximum speaker volume. It is not a record that you will play all of the time but it does have a likable and memorable timeless quality to it as its ravenous behavior will leave you wanting more and a desire to see METZ live because I guarantee that experience will be powerful and piercing in every good way – just like the album!
Key Tracks: "Headache", "Sad Pricks", "Wet Blanket"
Artists With Similar Fire: Helmet / The Jesus Lizard / Quicksand
METZ Website
METZ Facebook
Sub Pop Records
-Reviewed by Christopher Anthony
Latest posts by Christopher Anthony
(see all)