Thee Oh Sees


Putrifiers II
In The Red Records [2012]



Fire Note Says:Just when you think Thee Oh Sees cannot have any more tricks up their sleeves, they come back, surprise and mystify with Putrifiers II.
Album Review: It seems that we've been going through a garage psych revival, with many bands writing reverb soaked, acid splashed, guitar chuggers, and chord strummers that hearken back to the twisted days of the 60s. Thee Oh Sees, indie psych lords, seem to include their signature style as well as introducing some nice, new touches from the best of sunshine psych, garage growls, and dreamy ballads that help Putrifiers II avoid that stale feel of been there, heard that. The effort put forth here is really noticed and helps to separate The Sees from the pack.
Beginning track, "Wax Face", hits with some fun familiarity, it delivers a sound that those who follow the band will recognize immediately. It is a wacky, guitar driven rocker that had my head bobbing up and down, and sent a groove right down to my shoes. It sets a perfect tempo and really opens up the record to take any avenue it wants. Third track, "So Nice", is a solid departure from the straightforward rock and seems to play out like a tribal hymn straight out of the gospel of garage. A pleasant orchestration that swirls around the drums as the reverb vocals of John Dwyer carry the listener off into the beyond, a track that I can really appreciate. Seventh track, "Will We Be Scared?", sounds like it could have been a track right off The Zombies 1968 classic, Odyssey and Oracle. If you ever had a dream about what it would be to go to a psychedelic sock hop then this ballad would have to be playing in the background. It's a true stand out for the album and something that I would like to see Thee Oh Sees play around with in future outings. Another stand out and favorite of mine is the final track, "Wicked Park". A beautiful and soaring track that could be easily mistaken for a Syd Barrett ballad. Its striped down nature, cryptic lyrics and playful croon really take the record home and ends up being a fantastic closer.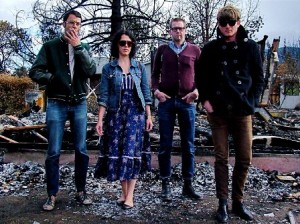 Thee Oh Sees have released a significant amount of music over their time together, which is why this album excites and delights with each play through. One moment it's a fire breathing fuzz wonderland, the next it's a slow pace think piece. I ask you to open the garage and fall down the rabbit hole with Putrifiers II because you will absolutely not regret it.
Key Tracks: "Wax Face", "Will We Be Scared?", "Wicked Park"
Artists With Similar Fire: Ty Segall Band / Woods / The Zombies
Thee Oh Sees Website
Thee Oh Sees Facebook
In The Red Records
-Reviewed by Christopher Tahy
Latest posts by Christopher Tahy
(see all)