How To Dress Well


Total Loss
Acephale Records [2012]




Fire Note Says: How to Dress Well impresses with their second full-length Total Loss.
Album Review: How to Dress Well is Tom Krell, a Brooklynite who produces and sings on the second full-length album Total Loss. Much of the album is sung in falsetto, which reminded me most recently of Bon Iver. There are other similarities between Justin Vernon and Krell including the ability to create a mood and atmosphere with their music. In fact, Total Loss is one of the most emotionally resonating albums I've listened to since Bon Iver's last LP. How to Dress Well does have more of an R&B flavor, evocative of The Weeknd, so do not start thinking this is Bon Iver redux.
Krell establishes the mood of the album with the first track "When I Was In Trouble." There are a few moments of quiet fuzz and then an organ plays what sounds like a dirge. This is how an album with the title of Total Loss should begin. Much like Bon Iver, I didn't feel a need to dive into the lyrics and extract their meaning – their meaning is evident in how the song is sung and produced. In fact, knowing the lyrics could weaken the album in some way. "Cold Nites" follows and I'll admit that it got a bit dusty in the room the first time I heard it. Yeah, I teared up. I was filled with wonder and appreciation for being able to connect with this track on an intimate level. The tone for the remainder of the album is consistent with these first two tracks with room for some funk and grooves. Even "Cold Nites" has a heavy dose of that funk served with a side of wistfulness. "Running Back" sounds like a great Prince track, which is never a bad thing.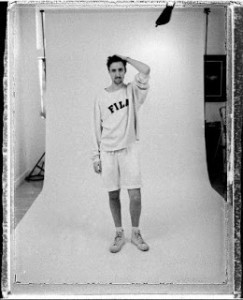 My only problem with Total Loss is its somewhat lack of diversity as the album moves along even though I feel there is enough here to keep my attention and appreciate the care and detail pored into the tracklist. And to be honest, this is a minor quibble when contrasted with the strengths of this album. Total Loss surprised me when I first listened to it – I was not expecting the craftsmanship and ambiance it provided. I think that surprise worked in the album's favor. This is not a one-listener by any means. Total Loss is one of my favorites of the year so far and its understatedness demands attention.
Key Tracks: "Cold Nites," "When I Was In Trouble," "Running Back"
Artists With Similar Fire: Bon Iver / The Weeknd / M83
How To Dress Well Website
How To Dress Well Facebook
Acephale Records
-Reviewed by Matthew Heiner
Latest posts by Matthew Heiner
(see all)