Cat Power


Sun
Matador Records [2012]



Fire Note Says: Cat Power changes up the approach which produces one of Chan Marshall's strongest records to date!
Album Review: Sun hails the return of Chan Marshall and her moniker Cat Power as it has been six long years since she last released a record of original material. Since that time she has battled several big life challenges such as the end of her longtime relationship with actor Giovanni Ribisi, filing for bankruptcy, having a house in foreclosure, needing to cancel a tour after being hospitalized and working out a tax issue. Clearly this would be enough to implode and side track any artist but instead of disintegrating completely, Marshall got herself back on track and the fruits of her hard work are displayed here on the excellent Sun.
One big difference on Sun, compared to her previous work, is that she wrote, played, recorded and produced the entirety of the record by herself which automatically should tell you that Cat Power is back in charge. This new attitude also brings forth a new sound as Marshall's trademark guitar work has been dialed down as synths and beats now rise up for the support. Longtime fans might start screaming at this thought but before you jump to conclusions make sure you hear the lead off track "Cherokee." The song is everything you could ask for in a Cat Power track and it comes at you from all angels. The beats and keyboards swirl up around Marshall's rich vocal and never let you go as she pours her heart into this feelings filled song. "Ruin" continues this cool upbeat keyboard swagger that Cat Power brings on Sun and you forget that this sound is unlike most of her previous work because Marshall pulls it off with ease. On "3,6,9" she calmly chants with attitude "3,6,9, you drink wine, monkey on your back, you feel just fine" in a repetitive nature which gets totally engraved in your head and once again possesses this undertone of dance beats that work and never once threaten her indie credibility.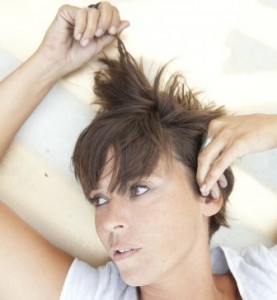 Sun is full of surprises as the more rocked out "Silent Machine" comes at you with both effects barrels loaded as it tweaks her vocals and features several raise your fist moments and chant along lyrics with Marshall. Another track that will mesmerize fans is the over 10 minute "Nothin But Time" which strolls along into the sunset with its swaying vocals and buzzing synth backdrop that also features backing vocals from Iggy Pop. These little extras help push Sun to the next level as does the ease at which Chan performs under her new instruments, arrangements and confidence. Sun does not represent your Cat Power of the past but the here and now Chan Marshall, which has now rediscovered her inner warrior and freely shares her strength on each and every track on this stellar new record!
Key Tracks: "Ruin", "Silent Machine", "Cherokee"
Artists With Similar Fire: Ben Orton / Jen Schande / PJ Harvey
Cat Power Website
Cat Power Facebook
Matador Records
-Reviewed by Christopher Anthony
Latest posts by Christopher Anthony
(see all)