Redd Kross


Researching The Blues
Merge Records [2012]


Fire Note Says: Redd Kross know power pop and bring it full force on their first album in 15 years – Researching The Blues!
Album Review: It has been 15 years since Redd Kross last had a record on the shelves with Show World [1997] so it was really anybody's guess for what this outing was going to bring. I am not even sure if the younger generation can appreciate a new Redd Kross record like Researching The Blues but for anyone that was around for the heyday of their 90's material this album will hit every power pop chord in your body – and that is a good thing.
Right from the opening rocking title track you feel that Redd Kross have never been away with its full on guitar attack, tight drumming and soaring chorus. It is the perfect reintroduction to a band that has always had solid critic success and clearly from track 1 has no intention of slowing things down or changing too much. If that was not enough to convince any long time fan that this is their Redd Kross then the power pop gem second track "Stay Away From Downtown" will put away any doubts that Redd Kross are a different band especially as the chorus hits you with 110% full steam as they forcefully sing "you better stay away from downtown" over and over and have you singing along "yeah you – yeah you" at its conclusion. This tight song structure continues on "Uglier" before "Dracula's Daughter" brings down things a slight notch and focuses on their ability to nail vocal harmonies.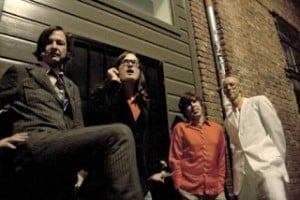 Researching The Blues only sticks around for about 32 minutes so there is absolutely no filler here from Redd Kross. It may not be a totally perfect record as the lyrics here only go so far but there is no band better at executing the power pop crunch heard here and let's face it – that is why we have hit play in the first place. Redd Kross bring their 70's power chords back in all their glory throughout Researching The Blues while once again making their style of power pop very modern. This makes for a fun listen that not only rekindles their past 90's recording days but still feels very fresh in 2012 and quite possibly might grab some new fans along the way!
Key Tracks: "Stay Away From Downtown", "Researching The Blues", "Winter Blues"
Artists With Similar Fire: Cheap Trick / Teenage Fanclub / The Replacements
Redd Kross Website
Redd Kross Facebook
Merge Records
-Reviewed by Christopher Anthony
Latest posts by Christopher Anthony
(see all)