Red River Dialect


"awellupontheway"
Self-Released [2012]



Fire Note Says: You may not have heard of them yet but Red River Dialect have released a record that is one of the best albums of 2012!
Album Review: Do you want to hear a totally under the radar psych-folk record that should easily land high on our Top 50 list for 2012? Then look no further than Cornwall, England based band Red River Dialect and their new full length "awellupontheway". It is a stunning 8 song, 47 minute experience that has an exuberant amount of energy stored up within its song structures and like any skilled artist has the ability to inject these moments piece by piece into the listener with artistic precision.
Right from the album's opening track, "Dawn's Man", your first lyric set is "See it lurking on the ridge lines; Gather rifle, knife & saline; Feel the moonlight sigh upon the search" which gives you an instant vibe of urgency, passion and confidence as it is delivered by the lightly weathered vocals of singer David Morris. This story telling takes on a somewhat darker undertone initially but as 7 of the 8 tracks here pass the 5 minute mark Red River Dialect is all about development. The almost 7 minute "Lion Walks Among" is a perfect example of this as its internal intensity builds, builds and build until Morris's vocals say it all at the end as his last line "As breath is seized by open lung, it will let me out" releases everything he has left in the track's final moments.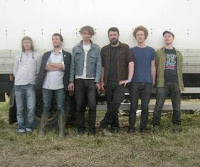 This creative timing and well placed emphasis by Morris is what propels "awellupontheway" while its instrumentation sets the mood and pace as their use of acoustic guitar, cello, violin, harmonica and lap steel enhance the more standard electric guitar, bass and drums. This variety gives each song here is personality and aura as a more psych soaked track like "Tavy Cleave" pushes the instruments out front as Morris's voice is somewhat distorted and tunnel sounding. At other times, like on "Cockerel f'the Moon," Red River Dialect rotate spotlighting the dominant component as the vocals and instruments each take the stage with a power vocal from Morris and several jam out sessions where all the instruments roar.
Red River Dialect provide an experience on this album that becomes more memorable with every spin. "awellupontheway" is a record that soars in so many different ways as it is both intense and reserved, fierce and gentle, and grandiose yet simple. This internal battle combined with the stellar vocals of David Morris and skilled musicianship from the band not only put Red River Dialect and "awellupontheway" firmly on the radar but easily make it one of the best records I have heard this year!
Key Tracks: "Appleseed", "Lion Walks Among", "Cockerel f"the Moon"
Artists With Similar Fire: Six Organs Of Admittance / The Waterboys / 16 Horsepower
Red River Dialect Website
Red River Dialect Bandcamp
Red River Dialect Facebook
-Reviewed by Christopher Anthony
Latest posts by Christopher Anthony
(see all)