Holograms


Holograms
Captured Tracks Records [2012]



Fire Note Says: All post-punk business from the Holograms stellar self-titled debut!
Album Review: Stockholm's Holograms are not messing around and their post-punk self-titled debut is loud, punchy and downright addicting. It is the type of modern gritty album that gets under your skin in a good way, makes your blood pump quickly and instantly has you wanting more.
Right from the opening slow bass strum in "Monolith" you feel the undertone of urgency in Holograms "go big or go home" attitude. This takes you to the hoovering vocals of Andreas Lagerström which soars above the music right up to the 1:41 mark when all hell breaks loose with the Holograms full punk attack. This opening track sets the tone for what is to follow which finds the band reinventing guitar driven songs with a synthesizer flowing in the background that all have a working man chip on the shoulder type of spirit. One component that helps this debut succeed is that the Holograms have the ability to flip the energy switch on and off which makes a track like "Fever" shine as it goes from a crazy high into a humming bass line that reshapes the conclusion of the song. "ABC City" is another sure-fire highlight that is up in your face with concise group sing-a-longs while its soaring guitar solo perfects the track.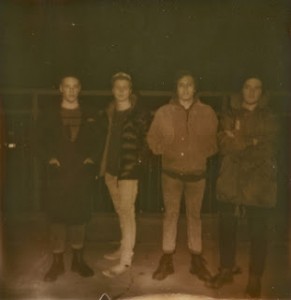 Honest pay for honest work is exactly the vibe that the Holograms emit here on their debut which works down to the last guitar. Every song sounds like it might be the bands last and possesses an intensity that keeps the listener on the edge. You may not find many people hailing Holograms as creating something new here but they stay a similar course over the albums 38 minutes and smartly avoid becoming dull or tiresome because their execution is solid which makes this album a keeper and probably one of my favorites so far this year!
Key Tracks: "Monolith", "ABC City", "Chasing My Mind"
Artists With Similar Fire: Fugazi / Mind Spiders / Sex Pistols
Holograms Website
Holograms Facebook
Captured Tracks Records
-Reviewed by Christopher Anthony
Latest posts by Christopher Anthony
(see all)