Fiona Apple


The Idler Wheel Is Wiser Than The Driver Of The Screw And Whipping Cords Will Serve You More Than Ropes Will Ever Do
Epic Records [2012]


Fire Note Says: Fiona Apple returns after seven years with another collection of tracks that will put you in awe!
Album Review: It has always been about the voice with the piano being a close second when it comes to Fiona Apple. When we go back to the beginning and "Shadowboxer" hit the airwaves it was 1996 and Fiona Apple emerged as a superstar that was fragile, eclectic and had one killer voice. Fast-forward 16 years and now Fiona Apple has resurfaced again with just her fourth long player The Idler Wheel (insert crazy long title here). The beauty of this new album is that it all comes back to the voice and piano again!
This mostly acoustic album is filled with Apple's masterful voice that still can display true emotion with very little effort. She draws in the listener with her quick shifting range and passionate lyrics. This is what you expect from Apple and even though it has been seven years since her last album she delivers the expectation right down to the very last song. Besides her voice there are several other little things that make The Idler Wheel shine like the occasional background scream during "Werewolf" or the small percussion solo at the beginning of "Left Alone". The rhythmic vocal interplay on the closing "Hot Knife" is truly memorable while her on the verge rage peaks during the chorus in "Regret" and clearly puts an exclamation point on the lyrics.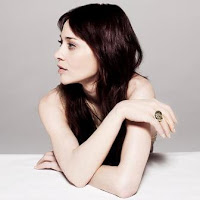 These small intricate pieces is what makes Fiona Apple one of the most interesting artists on the scene today and is the reason The Idler Wheel will be one of the best releases this year. It is a record that you instantly respect and will sit back in awe on how Apple can move so graceful but yet be so forceful. It is a true skill and one that returns on The Idler Wheel which quite possibly has become even stronger with age. Hopefully it will not be another seven years before we hear Apple again but with this type of output it will be worth the wait!
Key Tracks: "Every Single Night", "Regret", "Left Alone"
Artists With Similar Fire: PJ Harvey / Feist / Rachel Yamagata
Fiona Apple Website
Fiona Apple Facebook
Epic Records
-Reviewed by Christopher Anthony
Latest posts by Christopher Anthony
(see all)