King Tuff


King Tuff
Sub Pop Records [2012]



Fire Note Says: King Tuff expands their rock n roll resume on the solid self-titled sophomore record.
Album Review: I think it goes without saying that sometimes I really like odd music. Not in the sense that it is crazy or freaky if you would hear it but just that you might scratch your head and think to yourself "I don't get it". King Tuff is one of those records that might fall into the above mentioned category as it is the creative moniker from Kyle Thomas who was the frontman in stoner rock band Witch with J. Mascis and in the freak folk band Feathers.
Now King Tuff is a completely different outfit with its own unique sound that some are already familiar with as this self-titled Sub Pop debut is actually their sophomore album. It is a carefree rock n roll album that has elements of lo-fi, punk and garage all wrapped into its satisfying 40 minute running time. What makes this record worth checking out is that Thomas does change up some things from the 100% high energy of his Was Dead [2008] debut. This might scare some longtime fans but I hear King Tuff as a more focused progression than just this is what Kyle Thomas is doing next. This new approach is highlighted on the ballad "Swamp Of Love". That is right – a ballad from King Tuff which shows a completely different side of Thomas as an artist as he croons over a subtle piano before the song builds into a true sing along and album highlight. "Stranger" even finds King Tuff putting out a little Southern rockabilly onto his resume that totally works.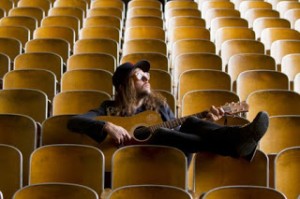 Everything from the album cover, the somewhat nasally delivery of Thomas to the furious two weeks of recording in Detroit , King Tuff screams caution but it only takes one listen to the bigger rock sound of "Bad Thing" to hook you with its simple sincerity. Upon conclusion, King Tuff also will have you hitting repeat before you realize you did it. That is always how I know I connect with a record regardless of its obscurity or weirdness and King Tuff meets all the criteria for a great listen!
Key Tracks: "Bad Thing", "Swamp Of Love", "Stranger"
Artists With Similar Fire: Hunx / Bad Sports / Jay Reatard
King Tuff Website
King Tuff Facebook
Sub Pop Records
-Reviewed by Christopher Anthony
Latest posts by Christopher Anthony
(see all)