Archie Powell & The Exports


Great Ideas In Action
Good Land Records [2012]



Fire Note Says: Archie Powell & The Exports perfect their good time rock out on sophomore outing Great Ideas In Action!
Album Review: Sometimes it is best to not change a thing when you have a winning formula and that is exactly the way I feel about the sophomore outing from Chicago's Archie Powell & The Exports titled Great Ideas In Action. In fact, the band expands on their catchy rock formula found on Skip Work [2010] and comes at you with another batch of modern day Elvis Costello that is tighter, even more focused and perfects their verse chorus verse approach.
What I like about Great Ideas In Action is that the songs never candy coat anything and easily resonate with the listeners as first song "Metronome" captures this with the line "Life is a bitch for me and for all the folks you know". The storming rocker "Crazy Pills" speaks to the dangers of going down the drug path while "Job Fair" seems to be a timely track about how tough the job market is right now even if you have a four year degree. The key here is that even though the subject matter may not paint the prettiest picture of the everyday grind, Archie Powell & The Exports make it feel 110% times better with their peppy tempos and memorable lines.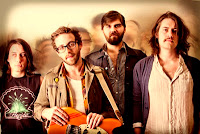 Great Ideas In Action is a fairly straightforward old school power pop rock album but there are plenty of songs that keep the formula interesting like the quick sinister vocal delivery switch in "Bend Over Backwards" that makes it memorable and an album highlight while the slower hum along "You Might Be Cruel (Or I Might Be Dumb)" showcases Powell's likable vocal tone. The entire record has an undertone of urgency to it that drives Great Ideas In Action right to the top as the band comes off confident, carefree and dedicated to rocking out whomever is listening. Personally this is a record I easily gravitate towards and if you are looking for a quality album that just gets better with each spin do yourself a favor and discover Archie Powell & The Exports now starting with Great Ideas In Action – you won't be sorry!
Key Tracks: "Bend Over Backwards", "Crazy Pills", "Sticky Buttons"
Artists With Similar Fire: The Replacements / Elvis Costello & The Attractions / Weezer
Archie Powell & The Exports Website
Archie Powell & The Exports Facebook
Good Land Records
-Reviewed by Christopher Anthony
Latest posts by Christopher Anthony
(see all)