Best Coast


The Only Place
Mexican Summer Records [2012]



Fire Note Says: Best Coast shakes the lo-fi and puts a spotlight on Bethany Cosentino's vocals for solid results!
Album Review: Going into this sophomore record from indie darling Best Coast you need to ask yourself how important you thought the lo-fi aspect of their debut, Crazy For You [2010], played into its overall success. If that was your selling ticket to loving Best Coaster Bethany Cosentino's debut then The Only Place might challenge your ears because that component is essentially removed here for a much brighter and polished sounding record.
With that said, I kinda thought I was also in that disappointed line of thought about the lo-fi pop missing but The Only Place won me over in exactly 2 minutes and 43 seconds, which is the running time of the first single and opening title track. The song is an early Liz Phair meets The Beach Boys blend that results in a catchy sing along that makes me want to make Los Angeles my new home town! The next track "Why I Cry" is another mid-tempo number that quickly gets in your head as its repetitive chant "You don't know why I cry" sticks well after its just over 2 minute pop glory. It is this catchy songwriting that grabs you with each track on The Only Place which is in both torchy ballads like "No One Like You" or on a hip jangle pace found in "Let's Go Home".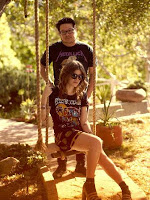 This bigger sound will be credited to the decision of working with producer Jon Brion (Spoon, Fiona Apple, Rhett Miller) that yields a more mature outing because besides that change, The Only Place still features Cosentino taking on all songwriting, vocal and rhythm guitar duties while Bobb Bruno is on lead guitar, bass and drums. The approach on this record is actually very similar to Crazy For You except that now Cosentino's vocals are right out front and guess what – she really can sing!
The album is a tidy 34 minutes and only gets more addictive with more spins. The Only Place does not surpass Best Coast's debut but I would not blame this on the style change as much as it is more about the prominent emergence of the indie lo-fi pop scene that was attached to Crazy For You. There will be some fans that might be turned off with the shift here but it really is a much smaller progression than you might think because cleaner here does not equal radio pop – cleaner sounding on The Only Place equals indie longevity for Best Coast. It is because of this that Bethany Cosentino will keep us coming back for more and I can't wait to hear what she does next!
Key Tracks: "The Only Place", "Better Girl", "Let's Go Home"
Artists With Similar Fire: Liz Phair / The Shangri-Las / Rilo Kiley
Best Coast Website
Best Coast Facebook
Mexican Summer Records
-Reviewed by Christopher Anthony
Latest posts by Christopher Anthony
(see all)