Allo Darlin'


Europe
Slumberland Records [2012]



Fire Note Says: Allo Darlin' pour on the mature indie pop with their sophomore record Europe!
Album Review: Allo Darlin' are a London-based four piece that is fronted by the silky smooth pop vocals of Australian Elizabeth Morris. Her spot on delivery grabs you instantly on the first single "Capricornia" as she sings the beginning lines over a simplistic guitar backdrop for a minute before the song kicks into full indie pop gear.
The sophistication of Europe does not stop at the first single as the next up title track brings another memorable moment as Morris sings longingly "And I'll remember theses nights always" as the song jingles and bounces on which simply sticks in your head. This same passion comes out loud and strong on "Wonderland" which finds Morris pleasantly ending the song with the lines "Feels like the world is ending; But I'm with you and I don't care".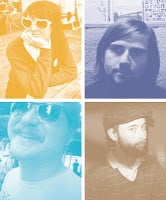 Europe is a record that when you hear it, you believe in everything track that comes at you. There is no over singing, no gimmicks, no pure sugar – just plain and simple solid indie pop with a purpose. Morris has a voice that stands out as the glue here but her supporting cast in Allo Darlin' absolutely don't miss a beat, a chord or a melody. This musically tight combination makes Europe one of the top releases so far in this genre for the year and definitely puts Allo Darlin' on the radar for bigger exposure moving forward!
Key Tracks: "Capricornia", "Europe", "Still Young"
Artists With Similar Fire: Camera Obscura / Go Sailor / Hospitality
Allo Darlin' Website
Allo Darlin' Facebook
Slumberland Records
-Reviewed by Christopher Anthony
Latest posts by Christopher Anthony
(see all)