Kishi Bashi


151a
Joyful Noise Recordings [2012]




Fire Note Says: A gorgeous piece of indie pop!
Album Review: A soaring indie pop record primarily written on a violin might scare you a bit but that is exactly the creative process behind the debut 151a from K. Ishibashi aka Kishi Bashi. Now before you run off based on that intro know that 151a uses a full array of instruments and its real magic comes from its Brian Wilson/ELO type harmonies that simply show up out of nowhere again and again.
Now you may think that Kishi Bashi is an unknown but many in the indie world already have heard his work as he is a touring member with Of Montreal and played on their current album Paralytic Stalks [2012] along with recording and touring with Regina Spector and Sondre Lerche. He credits his recent activity with Of Montreal's Kevin Barnes as the catalyst which ignited the musical growth found here as his creativity has hit a new high.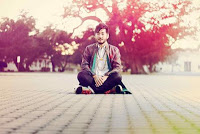 151a succeeds because the entire album has a cool artistic swagger that lets each track feel superbly orchestrated while staying loose around every corner. The sweeping layered harmonies that move through "Manchester" are a complete treat while a distant violin swirls in the background as the song builds in its intensity with Bashi's likable James Mercer type vocals. The next bouncy track "Bright Whites" features a Japanese singing intro and then appears again as a doubled layered harmony that gives the track a warm depth and makes it instantly memorable.
The remaining tracks on 151a follow this same sort of pattern with different tempos, effects and vocal interplay. It is an amazing feat how Kishi Bashi has the ability to work his violin into these tracks without dominating the sound. You always know when it is there as it quickly appears but perfectly complements what else is going on consistently. Even in "Chester's Burst Over The Hamptons" where it is the most prominent instrument the speedy just under two minute track never gives you time to focus on it as it just blends into the piece and is never over used or gimmicky.
Kishi Bashi has created a superb 34 minute debut in 151a that only gets better upon repeat listens. It is an album that will have you reaching ever so often for the volume because when the harmonies hit they are so unexpected that it propels Kishi Bashi's vocals to the front and it becomes irresistible to turn away. 151a is one of those unique records that sneaks up on you and then turns out to be one of the most entertaining, artistic, quirky, memorable and down right catchy albums that you have heard so far this year!
Key Tracks: "Bright Whites", "Atticus, In The Desert", "Beat The Bright Out Of Me"
Artists With Similar Fire: The Shins / Bon Iver / Vampire Weekend
Kishi Bashi Website
Kishi Bashi Facebook
Joyful Noise Recordings
-Reviewed by Christopher Anthony
Latest posts by Christopher Anthony
(see all)