Lotus Plaza


Spooky Action At A Distance
Kranky Records [2012]



Fire Note Says: A superb indie rock sophomore record from Lotus Plaza that just might be one of the best releases this year!
Album Review: Lotus Plaza is the solo project of musician Lockett Pundt, guitarist and multi-instrumentalist of Atlanta-based indie group Deerhunter. Spooky Action At A Distance is his sophomore album and easily now his finest work.
The opening track "Untitled" is a mystic 1:25 instrumental number that might lead you to believe that Spooky is going to revisit a similar path found on his debut The Flooding Collective [2009] but upon moving into the next track "Strangers" you automatically know that something is different here. The song is an exciting melodic piece that soars right from the opening drum stick clicks as it crescendos into its layered vocals and consistent guitar strums right down to its slowed down tempo ending.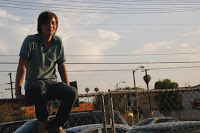 This laid back ability to create tracks that instantly soar is something that Lotus Plaza make happen again and again on Spooky Action At A Distance. From the slower big anthem chorus in "Monoliths" that continues to build to the more angular rock on "White Galactic One", Lotus Plaza consistently change things up here and keep your interest with different components that work together, engage you at each step and stick in your head.
What was the assumption that Pundt liked to stay in the shadows vocally is blown away on Spooky as his catchy Ian McCulloch type vocal is consistently front and center. This factor shines on a multitude of tracks here and especially on the strolling "Eveningness" and the more somber acoustic closer "Black Buzz". Lotus Plaza has not only released their best record to date but Spooky Action At A Distance rivals the best work from Deerhunter and most certainly will stand tall at the end of this year when we round up our Top 50. This is a great indie record that is timeless, memorable and something you should not miss!
Key Tracks: "Strangers", "Monoliths", "Eveningness"
Artists With Similar Fire: Real Estate / Luna / Echo & The Bunnymen
Lotus Plaza Website
Lotus Plaza Facebook
Kranky Records
-Reviewed by Christopher Anthony
Latest posts by Christopher Anthony
(see all)