Perfume Genius


Put Your Back N 2 It
Matador Records [2012]



Fire Note Says: Another deep record from Perfume Genius that leaves the lo-fi behind this time and displays an entire new level of talent!
Album Review: I don't believe that most people think of albums as sequels but that is the exact way to categorize Perfume Genius's sophomore record Put Your Back N 2 It as it continues the healing journey of the man behind the moniker, Mike Hadreas. His debut, Learning [2010], explored his dark experiences growing up such as abuse, addiction, and suicide and now moving forward, Put Your Back N 2 It still describes deep subject matter again but this go around it is more from the perspective of pushing on with the help of others, having hope and moving forward with grace.
Put Your Back N 2 It is not just a progression in lyric content but also in production as the debut's lo-fi sound has been replaced with a superior instrument clarity and memorable hush like vocal melodies that supply the album with depth, warmth and an irresistible draw. This is the successful delivery that Hadreas once again offers as he can turn what should be the most depressing track on the record into a beacon of light that will go way beyond your expectations.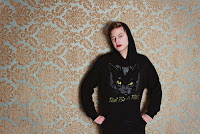 The debut from Perfume Genius was greatly overlooked but I don't believe Put Your Back N 2 It will have the same fate as sweeping piano driven songs like "Hood" possess such an intensity that it only takes one listen to grab you. Put Your Back N 2 It plays even better upon repeat listens and truly gets stronger every time you hear it. Perfume Genius has created a record here that is a mesmerizing listen and easily will finish in our year end Top 50!
Key Tracks: "Take Me Home", "Dark Parts", "Hood"
Artists With Similar Fire: Bon Iver / Antony & The Johnsons / Eulogies
Perfume Genius Facebook
Matador Records
-Reviewed by Christopher Anthony
Latest posts by Christopher Anthony
(see all)