Audra Mae & The Almighty Sound


Audra Mae & The Almighty Sound
SideOneDummy Records [2012]



Fire Note Says: Audra Mae turns up the heat with her backing band The Almighty Sound and creates one hell of a sophomore record!
Album Review: If you checked out Audra Mae's debut, The Happiest Lamb [2010], then you already know about her flawless smokey vocals. That record was a laid back folk outing from the singer and even though it showed off tons of talent and jazzy undertones the record just stayed too downbeat to be completely memorable. Well this sophomore outing should change all of that.
You will notice right from the title that Mae's backing band, The Almighty Sound, was added to billing and that is your first notion that the temperature is going to rise here. As Mae hollers out on the opening track "baby I'm coming – better ready yourself – be looking for me – because I'm the real thing" she instantly takes command of your ear and never lets it go. It is this new found attitude and swagger that not only carries this track but just infects every song on the record.
This more upbeat roots rock vibe doesn't mean that Mae loses her past identity as the slow torch burner "Annie Get Your Gun" is absolutely stellar while the closing "Two Melodies" is a straightforward acoustic number that highlights her vocal strength while ending the album with a memorable tone that will have you coming back for more.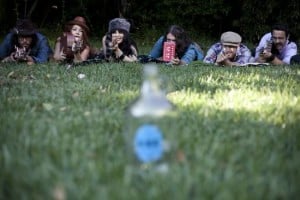 Of course the best tracks on this album put a huge spotlight on The Almighty Sound as "Jebidiah Moonshine's Friday Night Shack Party" is an all and out barroom stomper that is fueled with intensity as Mae hits the chorus complete with call and response moments that make the song an instant favorite while "Little Red Wagon" rocks out as Mae snarls "you can't ride in my little red wagon" and you can just imagine her smiling as she delivers the line.
Key Tracks: "The Real Thing", "Jebidiah Moonshine's Friday Night Shack Party", "Little Red Wagon"
Artists With Similar Fire: Gillian Welch / Caitlin Rose / Wanda Jackson
Audra Mae Website
Audra Mae Facebook
SideOneDummy Records
Latest posts by Christopher Anthony
(see all)