Heartless Bastards


Arrow
Partisan Records [2012]



Fire Note Says: The Heartless Bastards once again shine bright with their pulsing rock record Arrow!
Album Review: Erika Wennerstrom and her strong soulful vocals are back with the release of the Heartless Bastards fourth album Arrow. After relocating to Austin back before the release of The Mountain [2009], I think most thought that the Heartless Bastards would drench Arrow with Americana swagger from their new found Texas influences but instead this record rages, ebbs and flows rock.
Opening track "Marathon" eases you into the strength of Arrow as it is a slow paced 6 minute grinder that has a smooth guitar riff that continually sneaks under Wennerstrom's vocals while the song intensifies. This turns out to be the perfect set up to the upbeat and catchy rocker "Parted Ways" as Wennerstrom relaxingly states that "I just don't look at things the same way now since we parted ways". It is this new freedom and outward confident look that makes Arrow the fun romp that it is.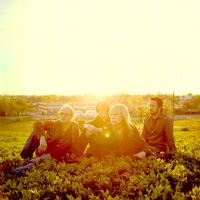 The T-Rex inspired "Got To Have Rock And Roll" has an incredibly strong riff that just pounds out of your speakers and makes it insanely hard to stop playing a little air guitar with it as "Simple Feeling" will have you singing the title with Wennerstrom as she embeds it in your head with her repetitive delivery. Other tracks here offer diversity like the more acoustic "Skin And Bones" which is a great track that just bounces while the torch burner "The Arrow Killed The Beast" has a spaghetti western flavor running through its undertone.
Arrow was produced by Spoon drummer Jim Eno and represents the bands first album for Partisan Records. The record is another strong outing for the Heartless Bastards and gives you 10 powerful songs that have a whopping 52 minute running time. For some bands, sustaining the longer tracks might become a problem but for the Heartless Bastards it is a perfect match as they use every second to convey their emotion. If you are already a fan of the band then Arrow is a must pick up but this full length is not only strong enough to grab new followers for the Heartless Bastards but can also be the starting point!
Key Tracks: "Parted Ways", "Got To Have Rock And Roll", "Skin And Bones"
Artists With Similar Fire: T. Rex / Lucinda Williams / Neil Young
Heartless Bastards Website
Heartless Bastards Facebook
Partisan Records
-Reviewed by Christopher Anthony
Latest posts by Christopher Anthony
(see all)