Nada Surf


The Stars Are Indifferent To Astronomy
Barsuk Records [2012]



Fire Note Says: A big sprawling return of an album from Nada Surf that is full of hooks, guitars and energy!
Album Review: As Matthew Caws sings the line "This new peace – I can feel it now," in "Waiting For Something" on Nada Surf's sixth full length The Stars Are Indifferent To Astronomy, it highlights that Nada Surf have returned with one of their most inspired and bright albums to date. The record brings all of the soaring hooks and melodies that fans have come to expect from the veteran indie band but on The Stars, the intensity has definitely been turned up.
This is the groups first album of new material in almost four years (If I Had A Hi-Fi [2010] was a covers album) and the approach for recording was play it faster and a little harder like the band performs live while utilizing all of their "new song" energy. The result under the guidance of producer Chris Shaw (Wilco, Bob Dylan, Super Furry Animals) is a record that comes at you with guitars and hooks blazing like the new memorable rockers "Looking Through" and "Waiting For Something".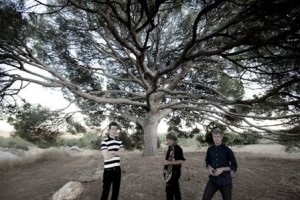 Speaking of guitars, Nada Surf also expanded their trio for the recording process with the talented axe-man Doug Gillard (Guided By Voices, Bambi Kino, Death Of Samantha) whom Caws met several years ago. Gillard played on If I Had Hi-Fi and toured with the group which made him a natural to add his skilled guitar solos to Stars which are a bright spot on every track.
The combining of Nada Surf's focus with their high spirits makes Stars one of the most optimistic records the band has released which showcases a group that is at total peace with their indie rock status. It absolutely doesnt matter if the band is reflecting back on a track like "When I Was Young" or looking outward during "The Moon Is Calling", Nada Surf sound great doing it. The Stars Are Indifferent To Astronomy is an album that grows and gets better after every spin because once Nada Surf hook you here – they really hook you – which is all the feedback longtime fans really wanted to hear in the first place!
Key Tracks: " "Waiting For Something", "Jules And Jim", "Looking Through"
Artists With Similar Fire: Big Star / Cymbals Eat Guitars / Death Cab For Cutie
Nada Surf Website
Nada Surf Facebook
Barsuk Records
-Reviewed by Christopher Anthony
Latest posts by Christopher Anthony
(see all)