Motel Beds


Tango Boys
No More Fake Labels [2011]


Fire Note Says: The Dayton, Ohio music scene is alive and well with the Motel Beds new long player Tango Boys!
Album Review: Right from the cool indie swagger of the opening minute long intro, "Theme From Tango", you get the sense that Dayton, Ohio's Motel Beds are coming at you with something solid. This track transitions into "Milquetoast Discovery", which greets the listener with frontman Paul John Paslosky's slightly fuzzed up croon that keeps the track swaying and makes it instantly memorable.
Over the last year, the Motel Beds have been quickly propelling themselves forward with several stellar CMJ appearances, signing with the North Carolina-based indie label No More Fake Labels and collaborating with fellow Daytonian Kelley Deal (Breeders). This has the band clearly focused on success, which can be heard as it all comes together on Tango Boys.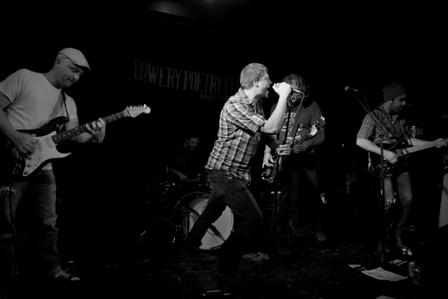 Kelley Deal makes her presence known on album highlight "Tropics Of The Sand", as her instantly recognizable vocals mirror Paslosky's line for line during its smooth tempo which creates an indie duet that has real buzz. "Hopeless" takes you to someplace warm with its Beach Boys type vocals and classic surf guitar vibe while the entire band shines on the catchy "Fake Army" with the stellar drumming of Ian Kaplan leading the charge.
Stylistically, Tango Boys blends different genres with its unique mix of lo-fi, hi-fi and classic British Invasion indie rock that combined with its neat 34 minute running time, this release turns into a can't miss from the Motel Beds!
Key Tracks: "Milquetoast Discovery" / "Tropics Of The Sand" / "Fake Army"
Artists With Similar Fire: Big Star / Chavez / The Kinks

Motel Beds Website
Motel Beds Facebook
-Reviewed by Christopher Anthony
Latest posts by Christopher Anthony
(see all)